Hledání:
Dostupnost: obvykle skladem
Název: MediaCube
Výrobce: Metus
Rozbalit / zabalit vše
Související produkty (3)
The Technology Metus MediaCube is designed to be installed onto an affordable Windows server platform. MediaCube is simple to administer and use, yet is easy to integrate with edit stations and graphics workstations. It gives local and remote users fast access to all their files and projects, both live and archived.
The MediaCube Server can be installed on one virtual or physical server only
MediaCube uses SQL Express as database which is installed during the setup routine
Client and storage limits can be increased by selecting a pre-defined bundle
Supports single tape drives for offline storage (with Standard and Pro bundles)
Works with any type of storage, DAS, NAS, or SAN, plus standalone tape drives  
 
How Metus MediaCube works
Metus MediaCube provides a seamless workflow to manage all your medium media assets.
Logs multi-format media assets into a central database, either by importing them to central storage or by tracking assets in their original network locations
Transcodes between the supported formats
Adds markers to video files for use as search criteria
Intelligently categorizes assets
Add an unlimited amount of custom metadata fields in various types
Engages lightning fast search among thousands of assets using any combination of entered metadata and search criteria
Supports AVID DNxHD content for playback and transcoding
Integrates with FCP via dedicated MAC client
Integrates with playout software, via plugins or playlists
Integrates with NLE systems via plugins (available for Edius, Vegas, Premiere)
MediaCube compared with Metus MAM Enterprise
MediaCube uses the same engine as MAM Enterprise. It supports the same video/audio/image formats and shares the core features and functionality.
However, running on a single server, it is most suitable for small to medium size customers. As reflected in the licensing structure, the system architecture reduces the option to scale the archive and some of Metus MAM Enterprise's API and optional components, such as image based searching and Information Lifecycle Management are not available.
The Choice for Small to Medium Businesses
Metus MediaCube is ideal for organizations who want to manage their multimedia assets. These include:
Small to medium size TV stations
Live production and post production companies
Small corporations, private companies, non-profit organisations
Educational institutions
Houses of worship
Municipalities, ministries, and other public institutions
MediaCube Core Functionality
MediaCube is quick to set up and easy to manage. This makes it specially suitable to companies prefer a system that works out of the box.
Collect media assets into a secure and easily searchable archive
Track the assets in the archive
Convert assets into multiple formats
Export and deliver media in any format with optional customized data
Process, edit and grade archived files using 3rd party tools
Track of actions performed on your archive
And much more!
Server Components:
Windows 2008 and 2012 Server, 64-bit
Windows 2008 and 2012 Server, 64-bit, IIS 6.0 or later
Storage:
Uses standard off the shelf server hardware
Support of any type of storage such as NAS, SAN, DAS
Supports nearline-offline storage systems ranging single tape drive to only single drive.
All components can be installed on single server.
Archives are organized into Archive Projects: each Project can have the same or different users metadata structure, storage.
Související produkty (3)
Software (1)
Studiová technika (2)
Alternativní produkty
13 990 Kč
Devátá verze oblíbené videostřihové aplikace pro Windows přináší komplexní podpo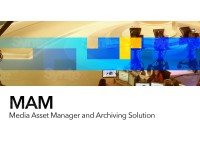 na telefon
Introducing Metus MAM MAM is a scalable media management system. Its asset manag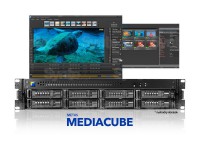 na telefon
Metus MediaCube Turnkey Workstation - kompletná pracovná stanica do 19" racku na
Máte otázku? Zeptejte se nás!