Hledání:
metaLAN Server is a cost-effective version of Tiger Technology's flagship metaSAN software, designed specifically to be used in conjunction with metaLAN clients. As such, metaLAN Server is ideally suited for environments looking at leveraging low cost Gigabit Ethernet, but requiring advanced connectivity features.
Naše cena:6 110 Kč
Cena s DPH:7 393 Kč

Rozbalit / zabalit vše
Související produkty (7)
Improve LAN connectivity with metaLAN, a companion software that leverages your metaLAN Server, metaSAN, or metaSAN iSCSI servers to deliver substantial benefits over a regular LAN share. metaLAN represents an affordable and efficient way to connect LAN clients to a centralized shared storage while providing them with block-level access, automatic load balancing, transparent failover, client bandwidth usage control, and easy cross-platform integration between Mac, Windows, and Linux clients.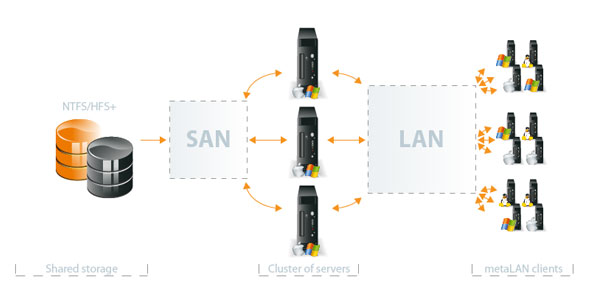 With metaLAN, the shared storage mounts as a local drive instead of a network connection. You benefit from block-level access over popular TCP/IP networking technology such as Gigabit Ethernet or InfiniBand. metaLAN also provides the cross-platform file-system translation technology required to enable Mac, Windows, and Linux clients to connect to a standard NTFS or HFS+ volume.
Any number of metaLAN clients can connect to a cluster of servers. By virtualizing the shared storage, you can eliminate hotspots and I/O bottlenecks in addition to aggregating the total bandwidth of the individual servers for increased LAN performances.
The individual metaLAN clients establish a dynamic, yet persistent connection with one of the available servers. Overall efficiency of the network is improved as load from multiple clients is equally and dynamically distributed among the servers that are participating in the cluster. If a server fails, its connections are automatically and transparently re-distributed among remaining servers. You can therefore easily add/or remove servers, or clients without disrupting applications or service.
Bandwidth control lets you ensure a fair utilization of the available network resources so you can reserve or limit how much bandwidth each client gets. metaLAN is compatible with standard applications, including Adobe Production Studio and Apple Final Cut Pro. In addition, the unique virtualization for Avid® feature enables sharing of media files among multiple users of Avid® software on Windows platforms for efficient workgroup collaboration.
metaLAN is easy to setup and does not require complex network protocols such as AFP, SMB, or CIFS to be installed and configured. Software licenses are attached to the servers, not the individual clients. This greatly simplifies the management of large facilities as there is no need to track licensing for the individual computers or OS platforms.
metaLAN is ideal for render farms, and enterprises looking for cost-effective ways to centralize their assets without the performance bottlenecks and lack of scalability associated with conventional NAS. The shared storage can be based on industry standard storage and networking components, such as Fibre Channel, SAS, or iSCSI. metaLAN also supports link aggregation (IEEE 802.3ad) to further increase the throughput available to LAN clients.
While metaSAN and metaSAN iSCSI can participate in the SAN as client or server workstations, metaLAN Server software can only be used as server gateways for metaLAN clients (i.e. the metaLAN Server host do not have direct access to the storage). metaLAN represents a better alternative to traditional network shares. metaSAN, metaSAN iSCSI, metaLAN Server and metaLAN software are sold through a worldwide network of authorized Tiger Technology Resellers. These value-added Resellers can provide pre-sales consultancy, integration services as well as post-sales support.
Související produkty (7)
Alternativní produkty
Alternativní produkty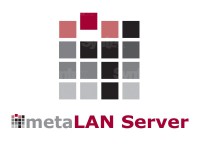 12 350 Kč
metaLAN Server is a cost-effective version of Tiger Technology's flagship metaSA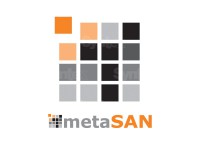 20 750 Kč
metaSAN is a high-speed file sharing Storage Area Network (SAN) management softw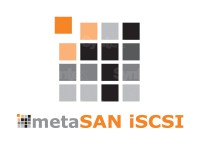 12 350 Kč
metaSAN iSCSI enables multiple servers to share access to a common iSCSI Target
Máte otázku? Zeptejte se nás!